Island Property Management has been owned and operated by Green Turtle Cay residents Julie Farrington and Leslie Sawyer since 1996. 
Julie was born in Bristol, England, and came to Green Turtle Cay in 1989 after moving to become Co-Manager of the Green Turtle Club, where she worked for 10 years. She has three children who grew up on the Cay, two of whom still live there today. Leslie was born in Nassau but spent most of her childhood on Green Turtle Cay, where her father was born. She has two children who also grew up on Green Turtle. 
Island Property Management (also known as Abaco Island Rentals) came to fruition when Julie and Leslie realized the idyllic island had an abundance of properties built by second-home owners that needed managing and renting. Leslie already had years of experience of managing a few properties when she and Julie decided to build it into a bigger business with a larger portfolio of rentable holiday homes. 
Now, nearly 30 years on, Julie and Leslie manage the most extensive portfolio of privately owned homes on historic Green Turtle Cay and are committed to serving you while you search for the perfect vacation rental in the Bahamas.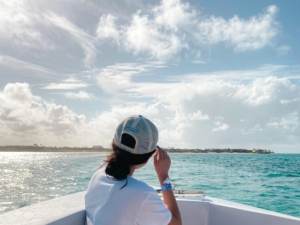 Many times the simple pleasures of vacationing can be dampened by the stress of planning, making reservations and the inevitable doubt of the quality of your accommodations. Our in-depth knowledge of each of the homes will put your mind at ease, making sure all of the arrangements are taken care of for you, exceeding all of your desires and specifications at every turn. From early in the planning stages, to every activity during your stay, your vacation will be tailored to your every need. Boat rentals, golf cart rentals, diving and fishing excursions can all be easily arranged before your arrival.
Choose from a wide selection of properties – a hilltop home with spectacular views and cool ocean breezes, a secluded beachfront hideaway or a sprawling oceanfront home with a swimming pool – all decorated by their owners offering a unique touch and making each home completely different from the other. With our superb service as property managers and vacation home experts, you will get the real Bahamas experience. The days are yours to plan! Discover easily accessible deserted beaches and uninhabited cays, days out fishing or snorkelling, dining out at the best eateries, sharing a beer with locals… What is guaranteed is that you will finish each day by returning to the comfort of your home away from home.
So no matter if you and your group are new to the wonders of the Bahamas or are rediscovering your favorite destination, with Island Property Management you will find yourself right where you belong!