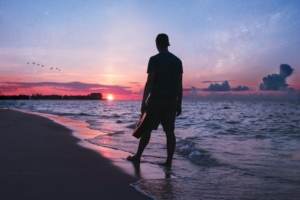 When thinking about travelling to a remote island like Green Turtle Cay, one might imagine it would be difficult. However, regular flights make it easier and easier to get to our idyllic island. 
Flights regularly come into Marsh Harbour International Airport (MHH) and Treasure Cay International Airport (TCB), which are the two nearest airports. For the latter option, you will arrive much closer to Green Turtle Cay but you'll have to excuse its lack of facilities – it was sadly destroyed by Hurricane Dorian in September 2019. From Marsh Harbour, you will need to get a taxi from the airport to the Treasure Cay ferry dock. It costs approximately $85 for two people. From Treasure Cay, it's a much shorter taxi journey to the same destination – 15 minutes and $5 per person. If you'd like to ensure a taxi will be there for you and your party, feel free to email or call us – we'll do whatever we can to ensure you have as stress-free a journey as possible.
Once you get to the Treasure Cay ferry dock, you'll need to catch a ferry boat to Green Turtle Cay. The ferry ride takes 15-20 minutes and costs $17 per person (one-way). Soak up the sights on this beautiful journey across the Sea of Abaco, where you'll get your first views of Green Turtle Cay. Let the ferry boat captain know which house you're staying in (they know the houses by name) and that you're expecting to be met by Island Property Management. Either Leslie Sawyer or Julie Farrington (or both!) will be there to meet you at the dock nearest your vacation rental. If you've booked a golf cart for your stay, make sure to let them know what time your flight arrives so they can also be there to meet you. 
We will then take you to your holiday home and all that's left to do is relax, unwind and enjoy your stay!